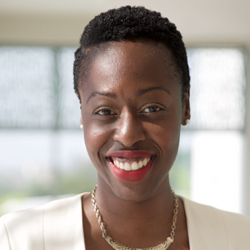 Yvecar Momperousse
CEO/Founder
Yve-Car Momperousse is a multifaceted social entrepreneur, institutional strategist and solutions engineer with a transnational focus on social and economic development. 
For more than 10 years, Yve-Car has been a leader in organizational restructuring, business consulting, institutional advancement and new business ventures. She has founded and successfully managed over 8 non-profits which have led to the development of transformational communities in Pennsylvania, New York and New Jersey. 
As a strategist, Yve-Car served as Chief Operating Officer for Nouveau Concepts, LLC., a startup marketing consultancy and creative agency, where she was instrumental in the development of operational infrastructure for human resources, sales and finances. Her management intuition contributed to the 80% increase in sales and the acquisition of 100+ international accounts in just two years. A burgeoning social entrepreneur, Yve-Car has recently founded Kreyol Essence, a premier portal for wellness-based beauty, body and healthcare products made from organic and authentic ingredients indigenous to Haiti. 
Yve-Car's leadership and vision has helped organizations embrace emerging business strategies such as social media and business techniques that advocates for diversity and inclusion to ultimately help their business succeed in our highly diverse global economy. As founder of the Haitian Professionals of Philadelphia, she spearheaded city-wide economic development initiatives to help create new emerging markets through corporate and private equity sponsorship. As National Director for the National Haitian Student Alliance, an organization founded by musician Wyclef Jean, Yve-Car successfully galvanized more than 5,000 young professionals to establish brand awareness initiatives for corporate partners Verizon Wireless and Monster.com. She has served as an organizational architect for Cornell University, University of Pennsylvania, Philadelphia Young Democrats and the Haitian Diaspora Federation. Her expertise in institutional advancement has raised over $300,000 for community development related causes from donors worldwide. 
An innate insight into business development, sales, innovation as well as her revenue-centric thinking makes Yve-Car a regular consultant and resource to executives and organizations around the country including The US Census Bureau, New Jersey Immigration Policy Network and AIDS Coalition of Southern New Jersey.